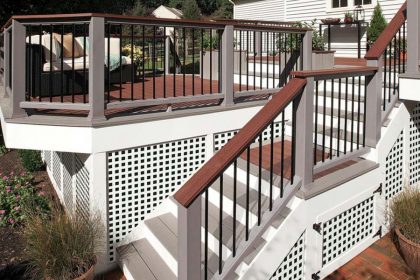 Summer is right around the corner, which means it's almost time to fire up the grill and entertain guests outside. When it comes to outdoor entertainment, there's no better place to do it than a brand-new deck constructed by an experienced deck contractor. No matter if you are building for the first time or replacing an existing structure, you might want some help figuring out the ideal dimensions to meet your needs. Here are four factors that could affect your deck's optimal size.
1.) Budget
Like any other home improvement, a new deck represents a significant investment. While you'll eventually benefit from the additional equity when it's time to sell, that doesn't always make the initial purchase easy. Before you start working with contractors, it's a good idea to set a budget so you stay within your means. If the project gets too expensive, it might be time to consider scaling down the size of the construction. The last thing you want to do is have a half-finished deck attached to your home because the funding dried up.
Decreased size is one way to save money on your budget, but you can scale back in other areas if you have your heart set on a larger deck. You can realize significant savings by eliminating a few of the bells and whistles:
Latticework
Planter boxes
Gates
Coated construction materials
2.) Size of Your Yard
Once you've set your budget, the next thing to consider during the deck building process is the available space in your yard. If you want to preserve some of your lawn's green space, don't build a deck that takes up a significant portion of the property. The only exception to this rule is decking that's attached to a second-story door on the building, because you'll still have plenty of usable area beneath the installation. There are also under decking option to keep the space under your deck dry. One more thing to consider is the amount of impervious space you have available to use. Check with your local municipality to find out those regulations.
3.) Your Ideal Utilization
Another factor to consider during the design process is the way you plan on using your new deck. If you're planning on throwing large outdoor barbecues, you'll want a space that's capable of safely holding all of your guests. For those who don't entertain very often, all that's needed is a smaller installation with just enough room for a table, chairs and grill for dining under the stars.
4.) Neighborhood Regulations
Any professional contractor will know the local building ordinances, but it's up to you to learn about your neighborhood's architectural restrictions. If you live in a community with a homeowner's association, contact a member of the board of directors to find out what dimensions are allowed under the covenants, conditions and restrictions.
Work With a Professional
These are just a few of the factors that could affect your choice in deck size, but the most important decision you can make is hiring an experienced professional to design your new outdoor living space. At DEKTEX, we design and build decks, docks and other outdoor living spaces all over Wisconsin and we're ready to help you avoid common costly mistakes. To learn more about our products and services or arrange a free estimate for your next project, call our office at 608-216-2002 or contact us online today.