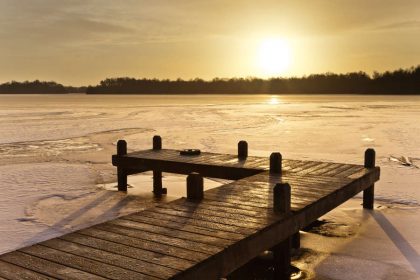 Treat Yourself This Holiday Season
We may not live in Florida, California or any other locale with year-round nice temperatures, but that doesn't mean you shouldn't take advantage of the outdoor space you do have. In fact, because Wisconsin has seasons, extending your outdoor living spaces can be done at a fraction of the normal cost if done during the off season. At DekTex, we specialize in the art of building docks, decks and other extensions of outdoor and indoor living spaces so that when the sun is shining, and the temperatures are warm, homeowners can enjoy the nice weather in comfort.
Dock and Deck Design and Construction
Our team at DekTex understands that more goes into the creation of a dock or deck than simply slapping some wood together and painting on a finish. Before building a custom structure, our team assesses the existing landscape and structure to which the deck is to be attached. We also consider your wants and goals for the outdoor extension. Do you want to be able to lounge near the water in a couple of lawn chairs after a day of sailing? Do you want the transition from kitchen to backyard to be seamless? Are you looking for an outdoor reprieve from the sun's intense rays during the summer or do you want a place in which you can sunbathe out of the public eye? Only once we understand your wants for your outdoor living space can we confidently begin to build the dock or deck of your dreams.
When most people think of decks and docks, they likely think of simple wooden structures that don't make much of a visual impact. Those are not the kinds of structures we create at DekTex. Our platforms are designed to be both functional and visually appealing, and to add value to a home and one's overall quality of life. To ensure that our platforms do all those things, we dedicate a significant amount of time and energy into creating the perfect design. Some design elements we incorporate into our fixtures to create a perfectly unique outdoor living space include the following:
Contrasting Stains
Firepits
Stair Design
Built-In Furniture
Tile Centerpiece
Lighting
Curves and Stair Designs
If you want a deck that is good for more than just sitting on, schedule an estimate with one of our designers today.
Affordable, Safe, Durable and Eco-Friendly Materials
Traditionally, outdoor platforms and structures were solely made of wood. However, while natural wood looks beautiful and gets the job done, it's high maintenance, bad for the environment and needs to be treated every two to three years to prevent rot and corrosion. Not to mention, it's expensive. Natural wood also tends to splinter, which could make your outdoor living space more of a headache than it is a relaxing retreat. So, if natural wood is out, what's the alternative? At DekTex, we use composite materials.
High quality composite decking material offers all the look and feel of real wood but without the hassle and high cost. Composite is man made and designed to be mold, scratch, fade and stain resistant. As a result, composite structures last years, if not decades, longer than traditional wooden ones, and they do so without all the TLC traditional wooden platforms require. What does this mean for you? It means the following:
You don't have to spend the precious sunny days you do have scraping, sanding and painting your outdoor platforms.
You don't have to invest a significant amount of money into stains and possible labor.
You don't have to worry about replacing deck boards or even the entire platform after a particularly wet fall, winter or spring.
You can actually enjoy your deck and all the wonderful, maintenance-free beauty it offers.
As if those aren't enough benefits, when you choose composite, you can rest easy knowing that your dream deck didn't come at the cost of a dozen trees, and that you and your family can walk barefoot across the boards without getting a splinter in your feet. You can also feel safe in the knowledge that you, your little ones or your guests won't slip when enjoying the sunshine as, in addition to being stain, mold and scratch resistant, composite is also slip resistant.
Hire a Team Dedicated to Building Beautiful, Sustainable and Long-Lasting Decks
At DekTex, we specialize solely in the creation of beautiful outdoor living spaces. Whereas many contractors merely include outdoor platforms in their extensive lists of what they can build, we focus primarily on docks and other outdoor living spaces. Because of this, we can build the type of stunning pieces of architecture that don't just serve as an extension of a home, but rather as an enhancement of a home.
Our team has years of combined experience in the industry, and each member plays an integral role in the customization of each platform we're commissioned to create. We are confident in our ability to both bring your vision of an outdoor living space to life, and to create a work of art that is both functional and stunning to look upon.
Request Your Free Quote Today
If you want to take your outdoor living to the next level, and if you want to add significant value to your property, reach out to DekTex today. We offer free estimates year-round, but because not many people think about their outdoor spaces during the off seasons, you can get a great deal on your dock, deck or outdoor space if you commission us to do work before December 31st. Call us today or contact us online to learn more about this deal and how we can help you.