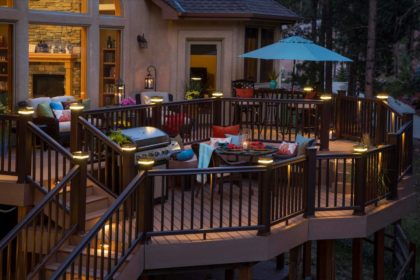 When it comes to outdoor living spaces, nothing evokes a warm atmosphere and keeps the conversation going quite like outdoor lighting.
Of your lighting options, permanent outdoor lighting installations are the most weather-ready and reliable. DekTex and TimberTech® lighting portfolio offer varied products for every mood, from softly glowing lighted island caps to visibility-enhancing riser lights. In this illuminating post, you'll learn about:
Accent lights
In-deck lights
Lighted island caps
Post cap lights
Riser lights
Under-rail lights
This article also covers installation tips and benefits to each type of lighting. Read the full article and get started on brightening your deck.