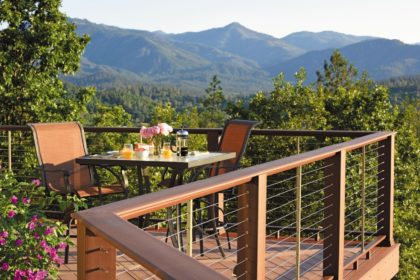 At this point, you're ready to put the finishing touches on your capped polymer or capped composite deck. That means it's time to decide on the DIY deck railing option that best fits your budget and your design aesthetic.
That means it's time to decide on the DIY deck railing option that best fits your budget and your design aesthetic. As your deck railing is the frame that unifies the design of your outdoor living space — while also serving the functional role of keeping your family safe — it's important to take your time when determining which railing is best for you.
Step 1: Get the Lowdown on Railing Systems & Types
What many folks might not know is that a railing system is actually made up of a number of components. To execute a polished DIY deck railing — whether you opt for a composite or metal rail — you'll first want to know each of the pieces that make up a railing system.
Benefits of Composite Railing
Composite core with a 4-sided cap that covers the backside and grooves and contains no organic wood filler, making it impervious to moisture damage
Value increases over time, as composite railings won't need the upkeep or replacement of traditional wood
Environmentally friendly composite railings from TimberTech are made from up to 50% recycled material
Benefits of Metal Railing
Powder coating protects against corrosion
Sightlines stay clear thanks to a streamlined and contemporary profile
Easy installation, with options for a panel system with Impression Rail Express®
Click here for a more in-depth breakdown of railing systems and the benefits to choosing composite and aluminum railings.
Step 2: Determine Your Design Aesthetic
Just like your home's interior, your outdoor living space reflects your personal taste. Additionally, your deck should also suit your lifestyle needs — whether that means entertaining large parties, lounging with close friends, or weathering the rough-and-tumble play of kids or pets.
Now that you know the differences between composite and metal railing, you can determine which railing best aligns with your design aesthetic.
Here are some important questions to consider when it comes to choosing your deck railing:
What is the architectural style and color story of your existing home? Which decking and railing combinations will best complement them?
Are you looking to keep your views unobstructed with something minimal or make a bold style statement?
Which railing profile do you prefer: classic millwork, modern and polished, or clean and minimalist?
What color is your home's trim? Many design-forward homeowners like to match their trim and railing for a cohesive look
If you're still on the fence, check out some examples of the traditional, modern, and minimalist railing options we offer for a better sense of what fits your taste and your deck.
Traditional
Pictured above: Drink Rail from our new Classic Composite Series, here pictured in Pecan from the TimberTech PRO® Legacy Collection. The Drink Rail uses a capped polymer or capped composite deck board as the top rail for a convenient and durable space to rest drinks.
As a lover of all things traditional, your taste is defined by classic shapes, realistic millwork, and a touch of formal elegance. For this style, look to our composite railings that embody the look of custom woodworking but without the time-consuming upkeep of traditional wood.
Modern
Pictured above: Contemporary Rail® in Traditional Walnut with a cable infill.
As a modernist, your taste is defined by sleek lines, clear right angles, and little to no ornamentation. For this style, look to our composite railings that capture mid-century and Craftsman influences without the need for the time-intensive maintenance of traditional wood.
Minimalist
Pictured above: Impression Rail Express® from our metal line in black.
As one drawn to minimalism, your taste is defined by clean lines and sense of airiness; no one could accuse you of favoring bulky pieces. For this style, look to our aluminum railings that keep sightlines clear while standing up to the elements thanks to a powder-coated finish.
Step 3: Select Your Infill
The final component to realizing your DIY deck railing is choosing the infill, or the portion of the railing that runs between the top and bottom rails. Your infill material and colors will depend on the railing you've selected. Remember that the infill is just as important as the top and bottom rails in creating the overall look and feel you desire.
Especially useful for the homeowner looking to execute a DIY deck railing? Our two express railings: Impression Rail Express® and RadianceRail Express®. As the name implies, these two railings are faster and easier to install thanks to a panelized system: the infill comes as a single piece of static balusters that is ready to affix into pre-routed baluster holes.
Step 4: Sample Your High-Style, Low-Maintenance DIY Deck Railing
Now that you're an expert on all things railing-related, you're ready to bring the finishing touches to your eye-catching outdoor living space. Whether your style is traditional, modern, or minimalist, you can find the just-right railing for your backyard escape with our wide-ranging railing portfolio. What are you waiting for? Give that picturesque composite deck of yours the high-style, low-maintenance railing it deserves.