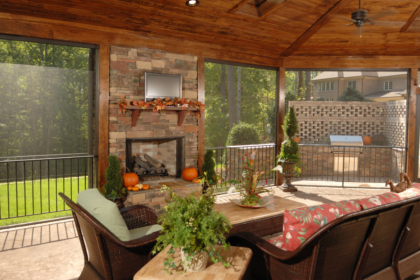 It's that leaf raking, football watching, doggy sweater wearing, pumpkin spicing time of year, and with it comes a word we haven't uttered in months: "Brrrr." While the temps can feel like a pause on outdoor life, it needn't be with patio upgrades that suit your al fresco ways. Sling a scarf over those shoulders, grab a mug of something steamy, and read on for excellent frost-free ideas.  
Traditional Methods
It has been proven time and again that s'mores prepared anywhere outside of a wood burning firepit quite simply are an abomination and should be avoided at all costs. Not only is a firepit the foundation for any self-respecting autumnal delight, it also serves as a remarkably effective and low tech solution for keeping the yard sign flipped to "Open" for just a couple months longer, and sooner in the spring. A propane burning firepit alternative not only ups the fancy factor, but it illuminates date night with just the touch of a button. Instant romance, and warm hands, in a matter of minutes.
In years past we'd assumed portable heaters were a luxury only restaurant patios could get their hands on. 2020 forced us all to get creative with more outdoor options to see our family, and that has pushed the heater industry into our own backyards. Now they've become a norm, what for their ability to fit within a small footprint and adjust around moving furniture. Electric wall mounted options cozy up a space much like indoor baseboard heaters, creating an outdoor living room out of your deck. Watch snow flurries dance from the comfort of your Adirondack, as though from behind a fogged window.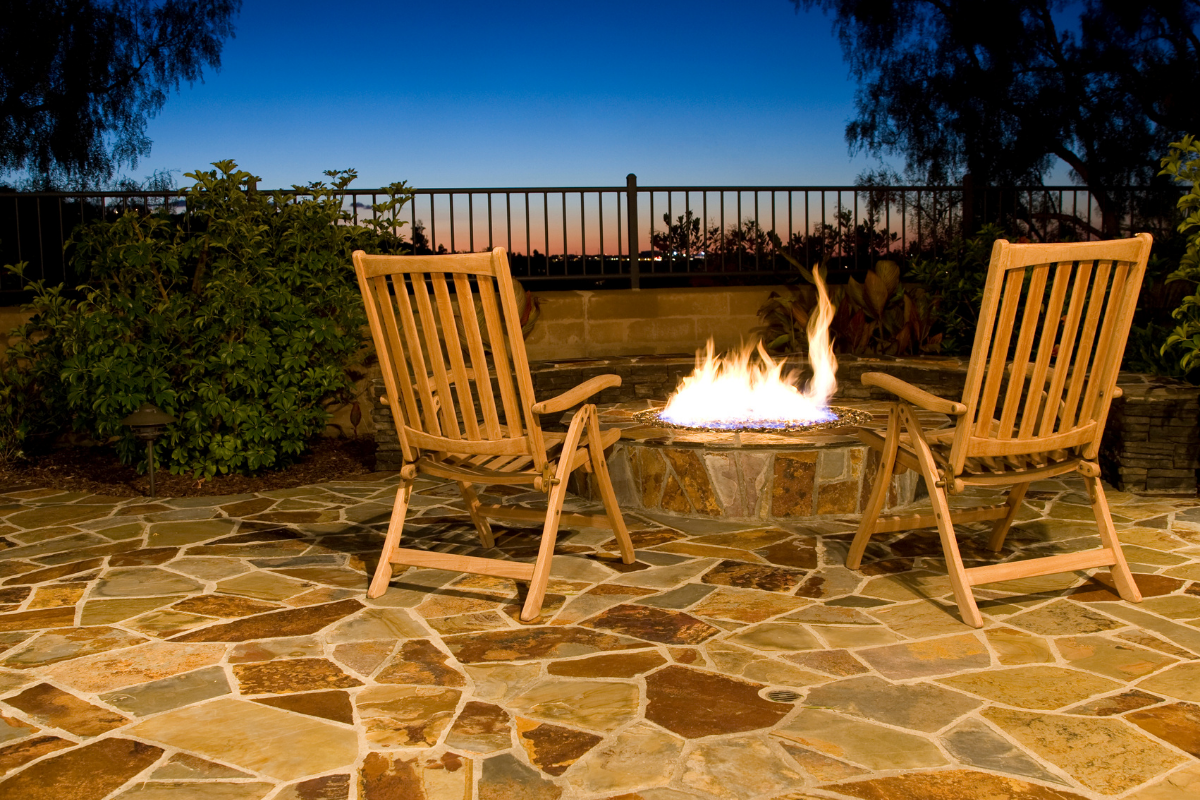 Structural Improvements
Engage our professionals for a higher grade enhancement by installing heated floors. Since heat rises, it only follows that the most consistent and efficient method to warming a big outdoor space is from the ground up. Less cumbersome and tidier than any other outdoor heater, radiant floors are felt but not seen, with an added bonus of melting fresh snow on contact for safe deck access and a more comfortable path for pets heeding the call of nature. 
Add to your indoor-to-outdoor lifestyle with a custom built outdoor fireplace. Constructed of just about any durable outdoor masonry, your fireplace will serve a practical purpose in addition to being a "wow!" feature that draws the eye and exudes togetherness. Be mindful of nearby fire hazards, for instance trees, when choosing your location. And try to keep it down so you don't bug the neighbors with your nightly wintery gatherings. Bear skin rug not included but strongly encouraged.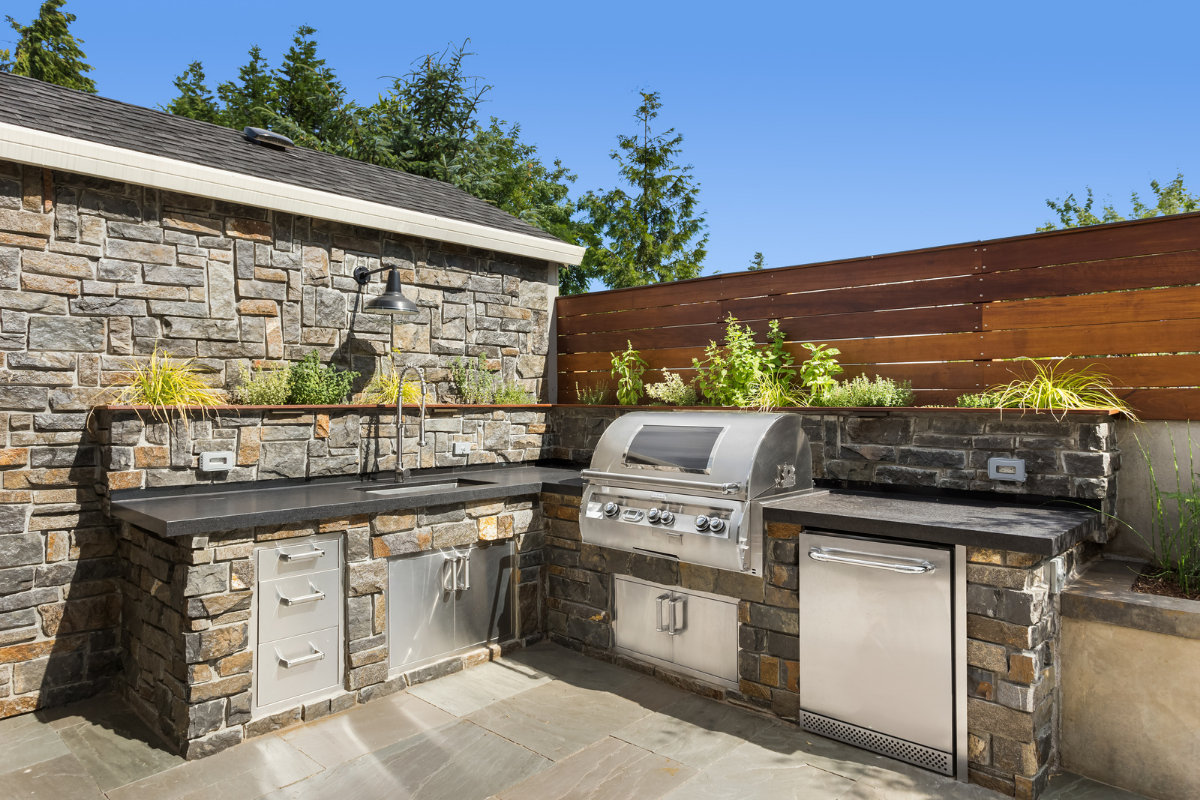 Luxe Amenities
Keep the party going with an outdoor kitchen. Anyone who has seared a burger on the 4th of July is well aware of how much additional heat outdoor grills provide, and have you seen how sweaty the guy is who flips the pizza and then slides it back into a brick oven? Once again these outdoor heating solutions serves two functions: radiant heat and delicious treats. Conventional ovens, wood smokers, and a good old fashioned four burner range work overtime for your outdoor entertaining.
Anyone who has slalomed down the slopes and then enjoyed an apres-ski at the lodge knows there is no better relaxant than the sequence of very cold elements followed by a blast of heat. Ease achy snow shoveling muscles with a dip in your very own hot tub or spa, while the sound of the jets lull you into your deepest sleep, ideally later, outside of the spa. For the reverse effect, enjoy the peace and release of your personal sauna, then stepping out into the crisp seasonal air for immediate refreshment.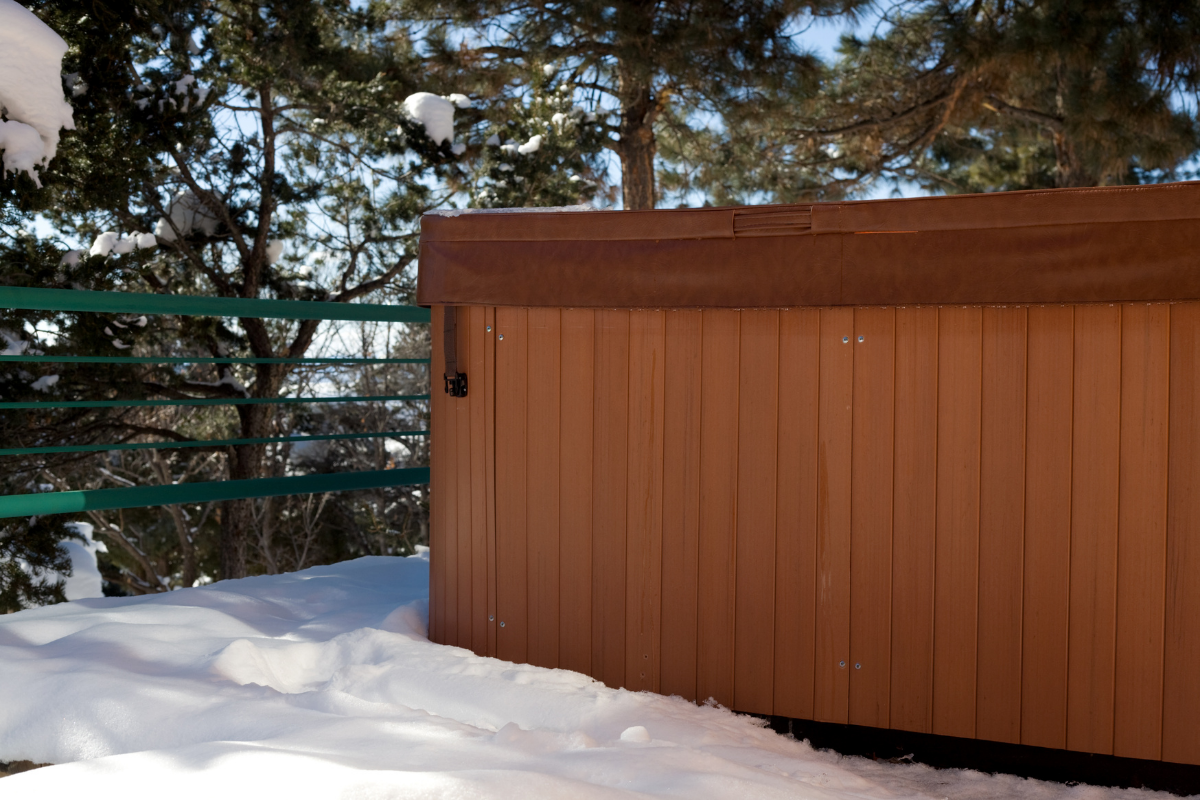 Tame Nature
An even more obvious protection from the cooler elements has been right under our noses, or rather over our heads. Pergolas not only add stunning architecture and purposely designate an outdoor living space, they also keep falling leaves, debris, and moisture off your furniture, and the people sitting on it. While it might seem like something to think about for next year's warmer months, DekTex is proud to employ Helical Piles for ease of installation during even the coldest of months and hardest of earth. Begin construction now for late winter, early spring use, when you emerge to watch the daffodils sprout.  
Other more rudimentary solutions include a retractable windscreen that can be mounted directly to your porch or pergola, creating a physical barrier to all things brisk, as well as being a handy shade from harsh afternoon sun all year round. Strategic landscaping adds to the effect, with lush, tall evergreens blocking snow drifts and Old Man Winter himself.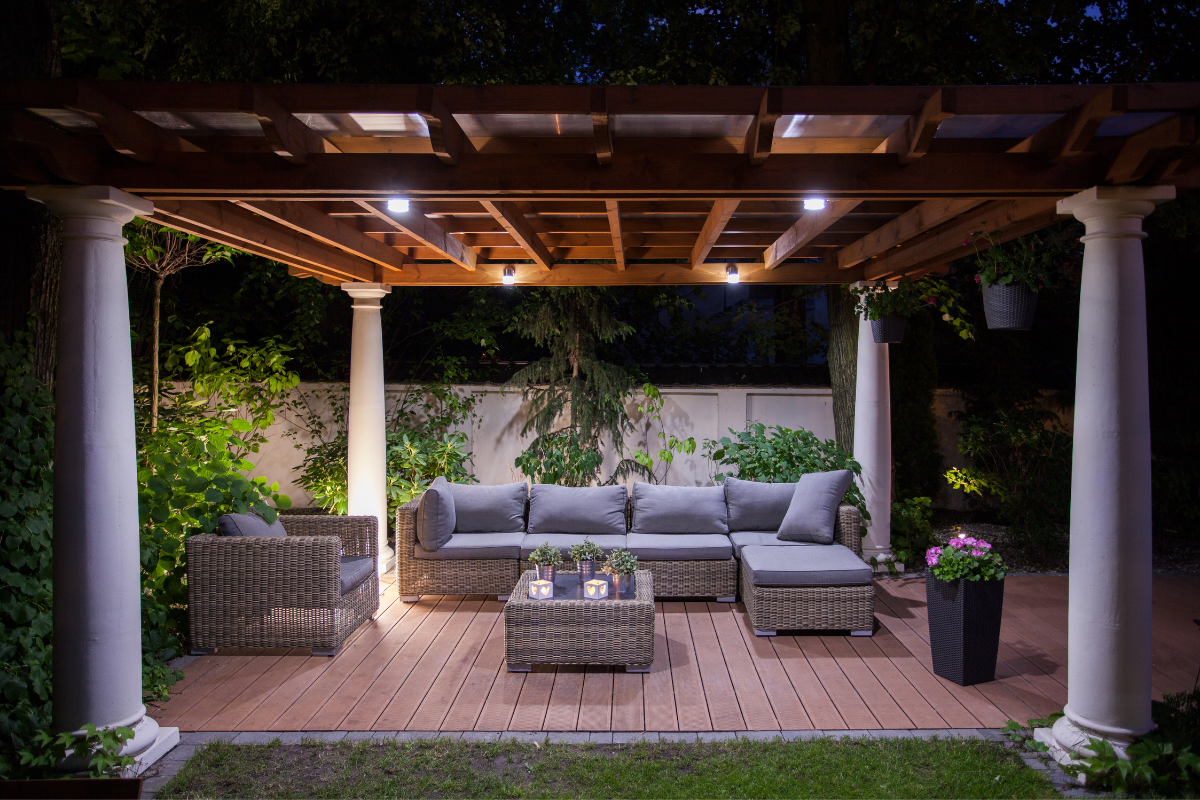 Any combination of the above methods broaden your patio use so you can stop thinking of yourself as a "summer person" and instead more of an "outdoorsy person." Rethink your definition of Chill Session, and give DekTex a call today to begin planning your next outdoor upgrade.