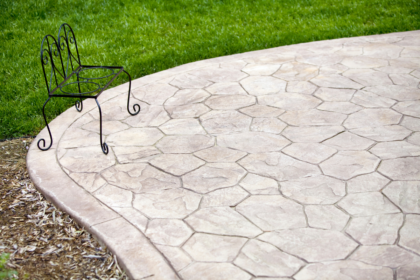 With a catchy name like DekTex, it is often assumed our entire sales portfolio is built around decking and decking only. In fact a large part of our day-to-day design and installation also involves custom hardscaping, such as patio flooring, garden paths, and decorative walkways. Not just a beautiful way to add polish and create mood, stamped concrete also offers structure among the wild elements of landscaping, support patio furnishings, and divide backyards into alfresco rooms.
What is Stamped Concrete?
Stamped concrete is a fast growing preference for much of our clientele, owed to a multitude of advantages over traditional materials. This method replicates flagstone, brick, tile, and even wood using molds and castings, resulting in an incredibly realistic rendering. Colors can be customized to your patio's style, and even augmented to appear aged with patina. Daily maintenance is minimal, since weeds and moss have no seams between which they can sprout and multiply. Installation is quick and comparatively very affordable, and the end product is durable and weather resistant. Wet season slips and falls are mitigated with an optional additive top coat, creating a grip for your footwear. 
What's Not to Love?
For some, what few drawbacks there are make stamped concrete a non-starter. For one, this is definitely not a job for the DIY homeowner. Proper equipment and experience are paramount when it comes to concrete, as there is little room for a do-over. Additionally in the event there is damage to a concrete patio, repair can be costly and tricky to match an existing stain, whereas replacing a brick here or there through the life of the patio is affordable and quick. Ongoing maintenance is a matter of fact for anything that lives outdoor year round; however concrete will require regular sealing to prolong its integrity over time. And in terms of aesthetics, some patio dwellers actually prefer the charm and enchantment of a moss dappled pathway.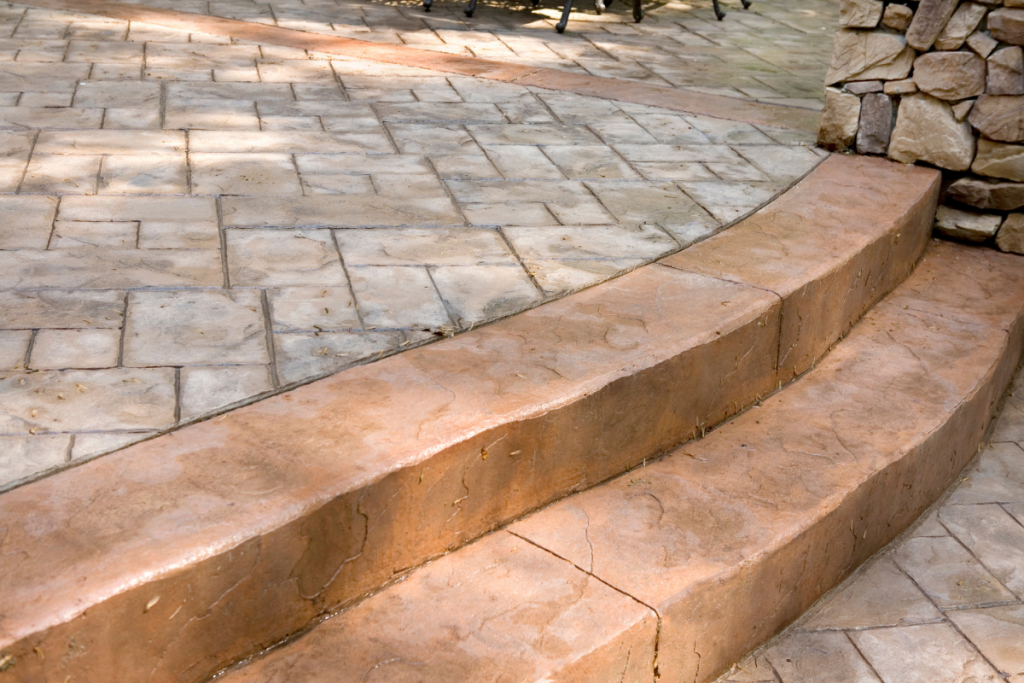 The Options are Endless
The design options for stamped concrete allow for a lot of personality to shine through. A clean and modern subway-tile vibe may appeal to you, so might the classic geometric grid, or the romance of a Parisian style circular layout. And color is key in creating a scene:
Traditional red offers warm contrast against blue

or

gray skies, and a lovely compliment to heavily green or wooded landscape. 

Creamy gray or natural tones takes on a smooth carpet like appearance, allowing vivid flowers and furnishings to be the showstopper. 

And a multi-toned patio lends an informal and vintage feel, as though hodgepodged over generations of use.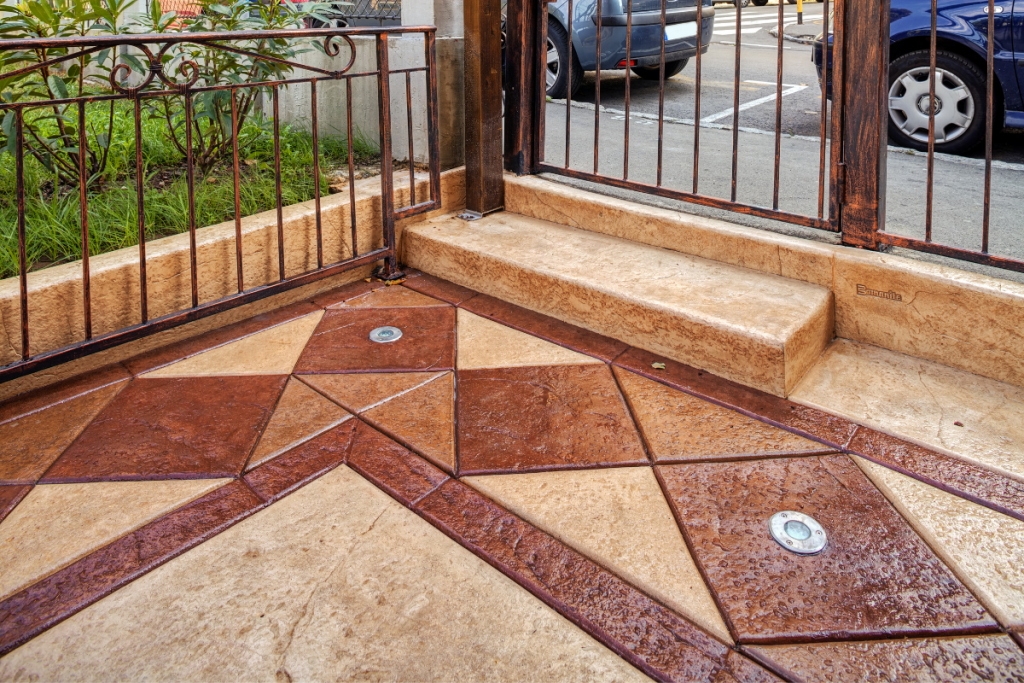 The limits for customization run beyond well your boldest idea. Call to arrange a visit with our DekTex team today to discuss your outdoor improvements, and let your imagination pave the way.